PHP List is the world's most popular open source email campaign manager. PHP List is easy to integrate with any website. PHP List is downloaded by Web Developers more than 10,000 times per month.
We can use PHP List to remain in contact with our Customers, by sending them regularly scheduled Sales Offers, Industry News, Announcements and Event Notices.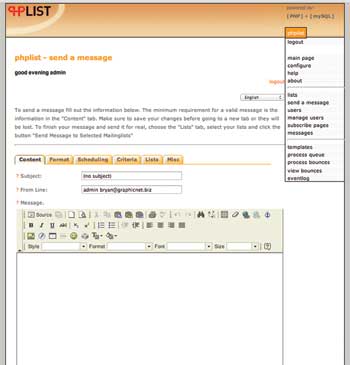 phplist Features:
PHP List is a one-way email announcement delivery system. It is great for newsletters, publicity lists, notifications, and other uses.

The Web Interface lets you write and send messages, and manage PHP List over the internet.

PHP List is designed to manage large mailing lists with over 100,000 subscribers.

PHP List manages message delivery with a message queue, ensuring your subscribers get your message, and that no subscribers receive two copies.

Multiple Subscribe Pages - you can choose from many different templates, user attributes and lists.

Templates are completely customizable, and make site integration a breeze.

Subscriber Attributes like 'name', 'country', and other personal information, are completely customizable. You can specify what information you need to get from users when they subscribe.

HTML email messages. Subscribers can be given the choice between text or html email messages. You decide if and what the choices are, and what format a message is sent in: text only, html only, or both!

The HTML Editor allows you to edit html messages from PHP List using FCKeditor or TinyMCE.

Multiple List Administrators. The super-admin can assign lists to List Managers, who can manage their own users and lists.

Subscriber Preferences. Every email message contains personalized URLs for subscribers to update their preferences or unsubscribe. Subscribers can update their own information.

Bounce Processing keeps your database clean of unused and non-existent email addresses.

CSV Import and Export. Use CSV and tab delimited files to import or to export your users.

Attachments can be uploaded and included in messages for download.

Send a Web page - PHP List will fetch it and send it.

PDF messages can be created & sent as attachments to ensure that your message is seen the way it was designed by all your subscribers, regardless of their email message reader.

Batch Processing allows you to Set the maximum number of sent messages in a given time period.

Scheduled Sending let's you tell phplist when the message is to be sent.

Repetition. A message can be repeated automatically to send updated dynamic content and attachments.
Price: $ 369.00 installed
Integrity, Personalized Service, Reasonable Rates – these are the central pillars behind which GraphicNet stands. Call Toll Free: 866-511-1611