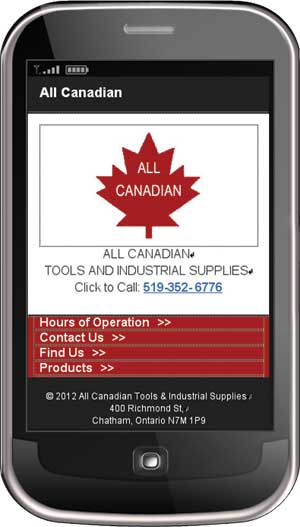 Over the past few years mobile devices (smart phones) have gained an enormous user base. With so many people doing mobile web browsing, it's time to provide web content tailored to the needs of these mobile device users. Recent Google statistics show that nearly 50% of all searches are done on mobile devices. With their interactive capabilities, mobile web sites are a great supplement to your existing, big screen web site. They allow a convenient and direct channel of communication
1) Include Your Branding - Logo & Colours:
• Include your Hours, Key Products & Key Services
• Include a working Telephone Link - your visitor can touch the link and his mobile device connects him with you by telephone!
2) Contact Information:
• Include your Contact Info, including mobile E-mail Link and a Basic Web Form which collects Name, E-mail and Telephone Number
3) Includes Google Location Map with Driving Directions:
• The easiest way for your prospects to find you and visit your location.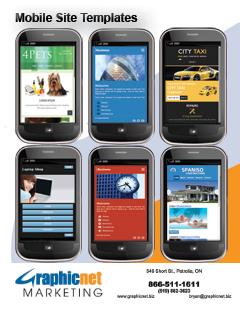 4) Includes Browser Detect and Redirect:
• This is placed on your Home Page and re-directs mobile devices to your Mobile-Optimized content.
5) Package Costs
4 Pages, Home, Hours, Contact & Location: $189.00
Each Additional Page, with 1 photo: $ 44.99
Integrity, Personalized Service, Reasonable Rates – these are the central pillars behind which GraphicNet stands. Call Toll Free: 866-511-1611